The Enrollment Marketing Benchmarks Report
We analyzed hundreds of marketing campaigns for graduate student recruitment in order to understand what's working and what's not when it comes to enrollment marketing for graduate programs in higher education. We then took the data and created a master resource that houses averages for performance data across all the different marketing tactics. To take it a step further, we even broke out the data based on the size and type of the institution so you can get a better sense of where your university stands within the context of similar schools.
Curious how your university compares? Check it out!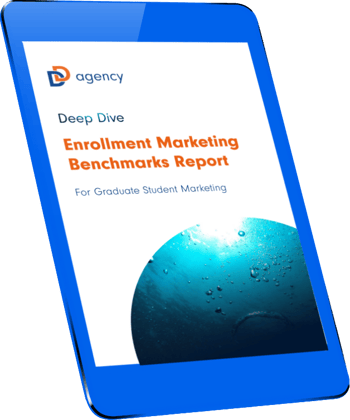 NEED TO REFINE YOUR MARKETING STRATEGY?
Start with our 4-part enrollment marketing course where we cover:
1. CONTENT
How can you get new traffic to your website without spending more?
3. EMAIL MARKETING
How are prospective students engaging with (all different kinds of) emails?
2. EVENT MARKETING
What does it take to successfully promote student recruitment events?
4. DIGITAL ADVERTISING
Where should you invest in digital advertising and how much should you spend?
Get all the sessions
How DD Agency Does Enrollment Marketing
Are you an enrollment professional eager to take your marketing efforts to the next level – or maybe you're just curious how others are constructing their marketing campaigns? If you want insights into how DD Agency has helped schools of all shapes and sizes... Look no further!
We recorded our four-part webinar series "How DD Agency Does Enrollment Marketing" and you can access all the sessions right here!